There is no doubt that throughout this vast universe there are issues and problems that confront us daily.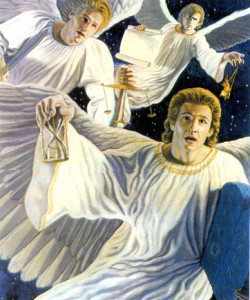 We live today in an ever changing world that is faced with flaming and burning issues in all its sectors—-Nasdaq, Dow Jones, terrorism, political, social, economical church/state religious issues—you name it, the world has it.
As we look through the window of this old world, it is important that an office of damage control be instituted to mend and stop the flow of disaster and mayhem that is closely becoming our bosom buddies. Bewildered, we asked, "what shall be next?" Is there any safe haven from the ever-increasing turmoil?
The Bible says in Mark 13: 7-8 "And when ye shall hear of wars and rumours of wars, be ye not troubled: for such things must needs be; but the end shall not be yet. For nation shall rise against nation, and kingdom against kingdom: and there shall be earthquakes in divers places and there shall be famines and troubles: these are the beginning of sorrows." Are we not seeing these unfold before our very eyes?—New York city Twin Towers, Afganistan, Middle East crisis, unrest in South America, turmoil in nations of Africa, simmering agitation in Russia and the Far East, Iraq and North Korea nuclear treats— and the list continues.
Daily, noble people have grown to experience and suffer excruciating physical, moral economic and mental pain that seem to have no real meaning and purpose. YET THERE IS AN ANSWER.
We may not want to believe it, we may not want to accept it, but my friends, the only answer to this world and its problems is JESUS.
So there is hope!!! There is deliverance!!! Our mission and objective throughout this ministry is to present the true teachings of the scriptures and Jesus Christ, our hope, the belief of a deeper searching of the scripture will answer our questioning minds and will lead us in faith, hope, and love to set aside the anxiety, care, and insecurity that have become so much a part of us so that we may prepare ourselves for Jesus and His soon return.
He is coming again. Be prepared to meet Him. For, ready or not, He is coming.
Our hope is that as you study our simple offering of understanding of the scriptures, you may be drawn to a closer walk with God, now and throughout eternity.
Contact us for more information about any of these Bible topics.
Attend one of our Bible Classes Thursday 6:00-7:00pm.