Following the Gospel commission given to us by Christ Jesus, to go teach, preach, baptize and make disciples of every nation, this became the launching motto for Endtime Message Ministries. Incorporating the pattern and methods of our Lord and Savior Jesus Christ which is the blending of word and deed, Endtime Message Ministries has been serving our communities for the past 7 years.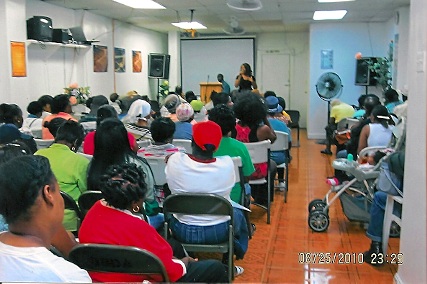 During this same time period, our Bible Class has been a major tool for educating, inspiring and transforming the lives of thousands of people who have entered our doors.  Our topics are biblically based, on what is declared to be present truth. "Sola Scriptura" – the scripture and the scripture only – is the foundation of all our studies. Our messages are build on the concept of the Everlasting Gospel of Matthew 24:14 and Revelation 14:6-12, which is the birth, life, death and resurrection of our Lord and Savior Jesus Christ.
We teach that Salvation is by Grace alone, through Faith alone, in Christ Jesus alone. This is done with a clear understanding of the importances of obedience to the law of God. This message has impacted many to the point that near fifty individuals have accepted Jesus as their Lord and Savior from sin, through water baptism.
Our Bible Class is held on every Thursday, 6:00 pm to 7:00 pm at our location of 4015 Church Avenue Brooklyn, NY 11203. We have an average attendance of about 80-90 persons at each Bible study, and on many occasions, only standing room is available. This is a testament to the power of God's Holy Spirit presents at out study and the transforming work of the word of God. We are confident that the coming of Lord Jesus Christ is very soon, and our role is to help men, women, boys and girls to get ready for His coming.
Maranatha "Our Lord is coming"