THE SCRIPTURES AND END OF TIME EVENTS
Question: What did Jesus say concerning the study of the scriptures?
Answer: "Search the scriptures; for in them ye think ye have eternal life: and they are they which testify of me." John 5:39
Question: In searching the scriptures, what is it able to do to the believer?
Answer: "And that from a child thou hast known the Holy Scriptures, which are able to make thee wise unto salvation through faith which is in Christ Jesus". 2 Timothy 3:15
Question: What does Jesus say to those who acquaint themselves with the letter of the Scriptures yet fail to understand them?
Answer: "Jesus answered and said unto them, ye do err, not knowing the scriptures, nor the power of God." Matthew 22:29.
Question: How credible are the Holy Scriptures?
Answer: "All scriptures is given by inspiration of God, and is profitable for doctrine, for reproof, for correction, for instruction in righteousness: That the man of God may be perfect, throughly furnished unto all good works." 2 Timothy 3: 16, 17.
Question: How are we to truly ascertain the credibility of the Holy Scriptures?
Answer: " For the prophecy came not in old time by the will of man: but holy men of God spake as they were moved by the Holy Ghost." 2 Peter 1:21.
Question: Did God ever promise or suggest that changes should be made to His Holy scriptures?
Answer: NO.. ..NEVER. Not one instance in the Bible is recorded that God changed His Holy Word.
Instead He said. "Heaven and earth shall pass away; but my words shall not pass away." Matthew 24: 35.
Question: What description is given of the Scriptures?
Answer: "We have also a more sure word of prophecy; whereunto ye do well that ye take heed, as unto a light that shineth in a dark place, until the day dawn, and the day star arise in your hearts: Knowing this first, that no prophecy of the scripture is of any private interpretation." 2 Peter 1:19 20.
Question: What did Jesus Christ mention about the book of Daniel?
Answer: "When ye therefore shall see the abomination of desolation, spoken of by Daniel the prophet, stand in the holy place, (whoso readeth, let him understand) Matthew 24:15. See Ezekiel 8, 2 Chronicles 36, Jeremiah 17.
Question: In relating to our time what other book of the Bible should heighten our focus?
Answer: " Blessed is he that readeth, and they that hear the words of this prophecy (Revelation), and keep those thing which are written therein: for the time is at hand." Revelation 1:3.
Question: Is there any assurance that we can accept the written word.?
Answer: Christ said, "Sanctify them through thy truth; thy word is truth." John 17:17.
Question: What event has to occur before the end of the world comes?
Answer: "And this gospel of the kingdom shall be preached in all the world for a witness unto all nations; and then shall the end come." Matthew 24:14
Question: What conditions would exist in the world prior to Christ's coming in the skies?
Answer: "But as the days of Noe were, so shall also the coming of the Son of Man be. For as in the days that were before the flood they were eating and drinking, marrying and giving in marriage, until the day that Noah entered into the ark, and knew not until the flood came, and took them all away; so shall also the coming of the Son of man be". Matthew 24:37-39
Further, the Bible states " Distress of nations, with perplexity; the sea and the waves roaring; men's hearts failing them for fear, and for looking after those things which are coming on the earth". Luke 21: 25,26
Question: Are we really living in the last days of earth's history,? How do we know?
Answer: "This know also, that in the last days perilous times shall come. For men shall be lovers of their own selves, covetous, boasters, proud, blasphemers, disobedient to parents, unthankful unholy. Without natural affection, trucebreakers, false accusers, incontinent, fierce, despisers of those that are good, traitors, heady, highminded, lovers of pleasures more than lovers of God; Having a form of godliness, but denying the power thereof: from such turn away." 2 Timothy 3:1-5. Is this not the condition of our world today?
Question: When these things begin to happen, what should we do?.
Answer: " And when these things begin to come to pass, then look up, and lift up your heads; for your redemption draweth nigh." Luke 21:28.
Question: What urgent warning did Jesus Christ gave us concerning the time of the end?
Answer: " Therefore be ye also ready: for in such an hour as ye think not the Son of man cometh". Matthew 24:44. "The proper attitude of a Christian is to be always looking for his Lord's return."—D. L. Moody, The Second Coming (Revell, p.9)
Question: The scriptures mentioned of signs and wonders of the end of time. It states of a decline in morality. We see today the signs that were prophesied of His coming.. What did Jesus say of the surety of these prophecies?
Answer: "Verily I say unto you, This generation shall not pass, till all these things be fulfilled. Heaven and earth shall pass away, but my words shall not pass away." Matthew 24:34 35.
Question: What Christian grace are we exhorted to exercise in our expectant longing for this event?
Answer: "Be patient therefore, brethren, unto the coming of the Lord. Behold, the husbandman waiteth for the precious fruit of the earth, and hath long patience for it, until he receive the early and latter rain. Be ye also patient; stablish your hearts: for the coming of the Lord draweth nigh." James 5:7, 8
Question: Who alone knows the exact day and hour of Christ's coming?
Answer: " But of that day and hour knoweth no man, no, not the angels of heaven, but my Father only." Matthew 24:36
REMEMBER, JESUS IS COMING
If Jesus Christ said it, then I believe it, and therefore that settles it. What about you, do you believe and accept the scriptures? Are you ready to willingly and earnestly study His word? Our sincere hope is that as you study these blessed truths you may get to know Him and have an even closer walk with Him. May God continue to bless you as you follow His precepts.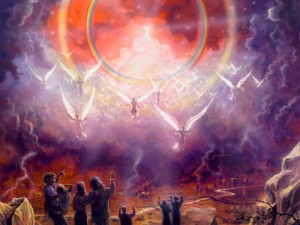 Contact us for more information about any of these Bible topics.
Attend one of our Bible Classes Thursday 6:00-7:00pm.